BUTTERFLIES OF THE COLORADO FRONT RANGE: A Photographic Guide to 80 Species, by Janet R. Chu and Stephen R. Jones.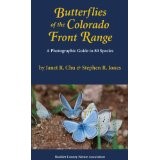 The guide covers the common species seen along the Colorado Front Range, their description, habitat, transformation and adaptations. In addition to photos, there are month-by-month occurrence charts showing when and where to look for each species.  5 x 8″, 112 pages, 80 color photos. $12.50.
Available at the Wild Bird Center of Boulder, 1641 28th St., Boulder, CO 80301, in other regional bookstores, online at Amazon, and directly through BCNA's online bookstore.
Butterflies of the Rocky Mountains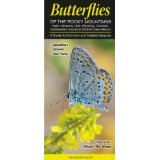 Butterflies of the Rocky Mountains:  Idaho, Montana, Wyoming, Utah, Colorado, Northeastern Arizona & Northern New Mexico, A Guide to Common and Notable Species [Pamphlet].  This is a waterproof, foldout quick guide with photos and text by Roland H. Wauer.  Available at Amazon and some bookstores.